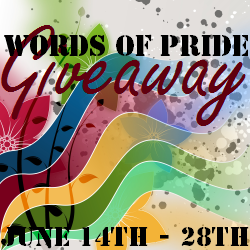 Over on my personal blog, I have been talking about the recent sexism and racism uproars in the SFF community and also decided to talk up more awesome books that go beyond the limits of straight, white, male and Anglo-American.
This is why I'm proud to present you the Words of Pride Giveaway of books with GLBTQ themes, which was organized by Hildred Billings, author of lesbian romance novels set in Japan.
The giveaway runs until June 28th and includes more than twenty indie books with GLBTQ themes. There's fantasy, there are romances, there's erotica, there is YA and NA, there is historical fiction. Oh yes, and a little story of mine called Outlaw Love.
So enter if you want a chance to discover some great indie fiction away from the heterosexual mainstream for free. And since there are so many great books on offer, maybe you'll even find a few you want to buy.
Send to Kindle